A few things that have been said about past & present works...
Comments from commissioned pieces...
Yes the kids are over the moon with their paintings. They both love them, but Jack especially thinks his is waaaaayyyyyyy cool! So you definitely hit the spot with these works! - Steve Colledge
The picture below was the waaayyy cool!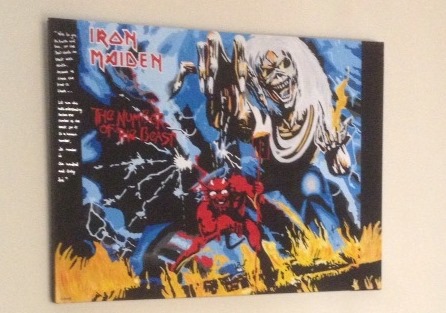 "My wife bought me a lovely acrylic on canvas painting for christmas of my 1959 Lambretta series 1 (which is my baby) - which was damaged on arrival thanks to royal mail!!! Diane with all her kindness worked really hard to send me another painting despite having many others to finish the quality of these paintings is exceptional and I have total admiration for this very fine artist - THANKYOU VERY MUCH!!!!! Stu xx" - Stuart Mills
"Like it!! Megan says 'I love it', its a definite hit" - Mark Findlater
"HoooRay! Super Sweet Art from Merry ole' England
by Nowell Art! It's Lovely!" - Carey L McCue
Melissa Peppercorn - "Wow from what I can see from the photo it looks lush thank you so much"
Comments from my website...
"Very striking artwork. Bold, sharp and eye catching" - Paula Kerr
"What a truly, stunning picture! She looks so real and beautiful! Wonderful work!"
- Becca Halverson
"The way you use black and white and the play with light is wonderful and expressions on your subjects are very real"
- Robert Staley
"Like....love it!!! Brilliant work. So realistic..stunning 5* Makes me want to try this technique but thinking of it I'd probably have to add bling and I can't do straight lines"
- Margaret
"Im blown away ! that should be in a famous art gallery, Diane thats some serious talent you have hun - I cant get my head around have brilliantly realistic this is - going away to sulk now - laughs - Incredible art.."
- David
"Wow this is really spectacular. I love black/grey/white drawings/paintings. You really did a masterful job of this."
-Candace Coyle
"Hi Diane, this is truly awesome! Having browsed through your work and read your profile, I think that apart from being an outstanding artist, you are also very brave! Try not to stress...keep strong...and keep painting. This is our gift which is often our salvation!"
- Bernie Langton